Pelton turbines
HIGH HEADS: FROM 30 UP TO 400 m
HYDRO-TINCK supplies two basic types of Pelton turbines, vertical (with 4-6 nozzles) and horizontal with 1-2 nozzles). For all Pelton turbines we use runner buckets of stainles steel, anti corrosion protection system and electromechanical servo drives.
Pelton turbines can be installed horizontal or vertical. Stream of water that flows from the nozzle come with high speed tangential to the turbine blades, which are welded two parts in the form of single or double dipper. The amount of water that flows into the turbine blades can be controlled. Doing so we are changing the flow of water. Pelton turbines may attain up to 250mW of power, the efficiency of these turbines is 85% to 92%.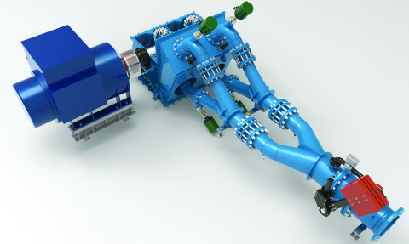 THP H type – horizontal compact Pelton turbine
Runner buckets made from special stainless steel.
Electromechanical servo drives.
Runner mounted either on own bearings or on smaller turbines directly on the generator shaft,
that makes the turbine more simple and creates a compact unit with generator.
Certified for use in drinking water.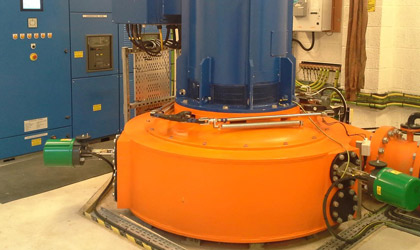 THP V type – vertical compact Pelton turbine
Runner buckets made from special stainless steel.
Electromechanical servo drives.
Runner mounted usually directly on the generator shaft, without seals, which makes the turbine more simple and creates a compact unit with generator.
Certified for use in drinking water